Homero Cavazos
The fishing cabin and this website are dedicated to our beloved primo Homer Cavazos, and to his love of fishing, hunting, and the outdoors that has inspired us all...
Photobucket Picture Gallery
Previous Post
Archives
Links
Powered by
CCA STAR TOURNAMENT


Leaderboard Standings
2009 Tide Charts
Tide Chart - Port Isabel
Primos Cabin Booking Schedule - NOT FOR RENT - PRIVATELY OWNED
A Couples Trip 7-4-09
Monday, August 10, 2009
Cindy and I took some friends out for some fishing and had a blast. Notice the awesome fish and chicken fry (It definitely tastes better fresh!). Also, in a weird coincidence, the neighbors cabin has a "Trifecta" painting on the side..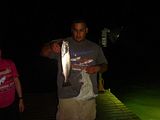 posted by Roel Ramirez @ 8/10/2009 07:27:00 AM